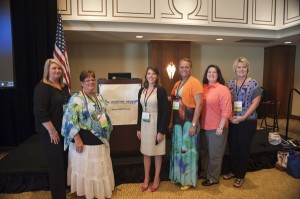 STATE OF LOUISIANA
Jamie Bradford Lopez
Owner, SOBO Promotional Products, LLC®
Jamie has been involved as a vendor and volunteer within the hospice industry since 2011. As a business owner, she brings a unique perspective and set of business skills to the board.
Rae Saloom Gremillion, Treasurer
Community Liaison Volunteers of America GBR-Acadiana Programs
Rea serves as a liaison in the Acadiana area and has immense experience working with hospice as well as local and state legislators.
STATE OF MISSISSIPPI
Tiwana O'Rear, Secretary
Home Hospice Administrator, Sanctuary Hospice
Tiwana serves as Administrator for Sanctuary Home Hospice. She leads a dedicated team of compassionate hospice workers as well as manages all facets of this organizational branch. New and innovative care are some of the primary focuses of this role, as she has helped to place Sanctuary Home Hospice as the leading local choice in hospice care. In her commitment to personal growth and leadership Tiwana earned the designation of Certified Hospice Administrator in 2011.
Melita Miller
Director, Forrest General Home Care and Hospice
Melita has served in various administrative level positions within hospice and home care; from Admission Coordinator and Patient Care Nurse Manager at a branch office to her current position as Director for Home Care and Hospice. She currently serves as a member of The Alliance Board, as well as President-elect for LMHPCO.
STATE DIRECTORS
Elizabeth Duncan Harper, Louisiana State Director
Elizabeth has served as the Louisiana State Director since September 2011. She actively tracks regional, state, and national legislation and lobbies issues affecting end of life care, hospice and palliative care. She also plans and organizes advocacy events in addition to her Alliance membership development efforts.
John Morgan Huges, Mississippi State Director
John Morgan serves as the Director of Political and Business Development at Hayes Dent Public Strategies. In that capacity he represents various firm clients in their lobbying efforts across the state of Mississippi and in Washington DC. In addition to governmental affairs, he also oversees a team of senior consultants at HDPS's campaign brokerage subsidiary, Republic Group. He holds a bachelor in Political Science from Mississippi State University and a Masters in Business Administration from the University of Mississippi.